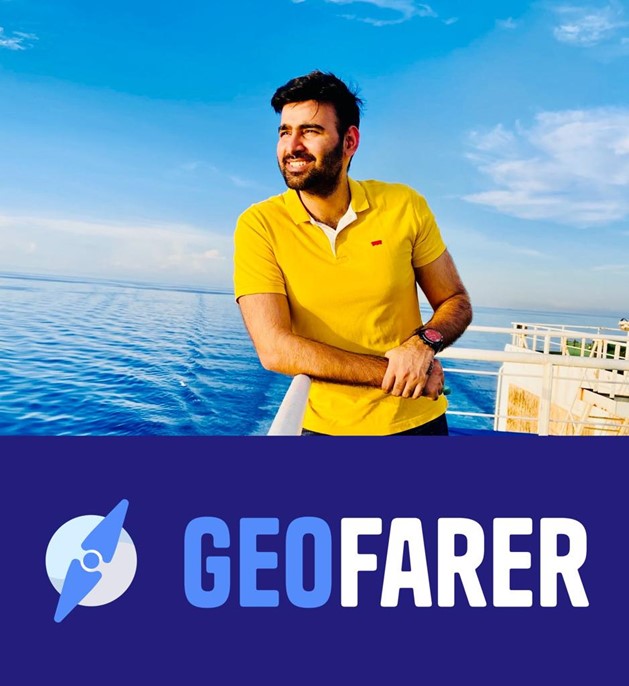 Born to a sailor and being an expert sailor himself, Mr. Rohit Verma always had an obsession with seas and a passion for sailing. Mr. Verma's voyages have taken him to multiple countries and have led him to foster connections with sailors from across the world.

Throughout his sailing career spanning over a decade, Mr. Verma always felt that the whole sailing ecosystem was very complicated and had many different variables to consider. On a mission to simplify sailing, with a deep desire to serve the under-served community of seafarers and fill the many voids in the sailing community, Mr. Verma came up with his brainchild – GeoFarer.

Founded in 2021, GeoFarer is an all-in-one community platform for Mariners across the globe. So far, numerous sailors, captains, and other seafarers repose their trust and confidence in GeoFarer for simplifying their sailing experience.

GeoFarer's accurate services, timely updates, and responsive customer support team have already made it the most popular app among Seafarers.

Dive into the Geo Farer app and you'll get to know what they offer –

Secure Files & Documents


It is a laborious and troublesome process for a seafarer to have to carry various physical papers throughout every leg of their voyage. It is necessary to keep essential files, such as National CDC, COC, Visas, Contract Copy, Passport, and GMDSS Certificate, amongst a great many more.

With GeoFarer, sailors can use the digital space to store all the important papers.

That's not all, you don't even have to worry about updating them because they remind you to do so if any papers are about to expire.

Calculating NRI status and Taxability

Almost all seafarers have to spend a significant amount of time considering their residential status – whether a non-resident Indian (NRI) or not. Other times sailors ponder whether their income is taxable or not.

If you've answered either of those questions "yes," then we're glad to let you know that GeoFarer is there for you.

GeoFarer will not only assists in figuring out the residential status but also in calculating the accurate amount you will be taxed.

Upskill. Update. Grow


Seafarers require continuous learning and constant updating of their knowledge. With GeoFarer sailors can access classes, locate institutions, and search locations where they can upskill, update and get to the next stages.

With GeoFarer can you find DG-approved institutions and ensure that you are up to speed on the most recent marine developments.

Seatime Management

Every sailor will know the pain of Seatime Management. The practice of mentally computing seatime following the completion of each contract is something that all seafarers are used to doing. With GeoFarer, Seatime Management is no longer a hassle.

Track and Locate

GeoFarer lets you track the data of any ship seamlessly. You can also go ahead and track your upcoming port and get all its details.

They give early access to an exclusive platform. GeoFarer has a community that is limited and exclusive and has access to solutions that are easy to implement and move quickly for the challenges that the Seafarer faces.