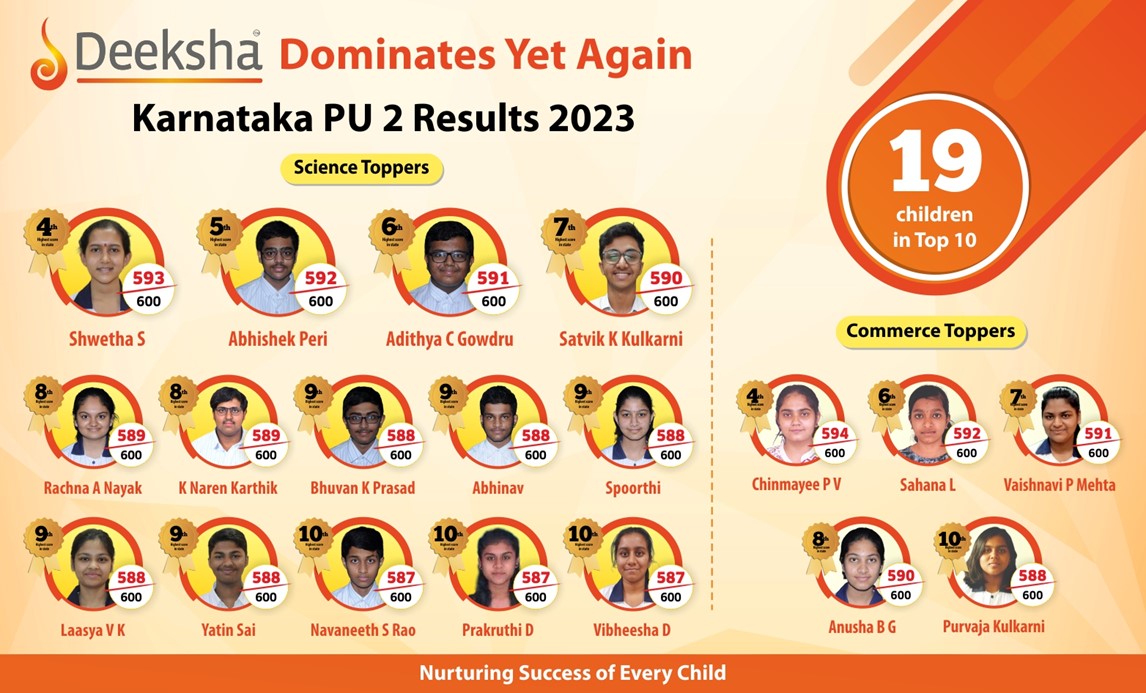 Deeksha's exceptional approach to education has once again been proven by the remarkable achievements of its students in the Karnataka PU 2 Results 2023. With 19 students securing positions in the Top 10 scores across the state, Deeksha has reinforced its dominance as an academic powerhouse.

The students who secured the 4th and 5th highest scores in the state, Shwetha S and Abhishek Peri have scored 593 and 592 out of 600 respectively. Shwetha is a student of Deeksha's Yelahanka campus and Abhishek studies at Deeksha, Main Campus.

Speaking on their achievement, Shweta said, "I attribute my success to the Integrated model of Deeksha that seamlessly combines PU and competitive exams studies. I was preparing for NEET and by virtue of that the excellence in Board resulted. Although my focus is NEET, I have also written JEE and scored 97.6 percentile. So, you see, the focus on competitive exams and the rigour it demands makes it very easy for us at Deeksha to do well in Boards.

Abhishek, in turn, said "I think the consistent focus on NCERT is very important. I am a NEET student at Deeksha, so NCERT in-depth study is a precondition anyway and I always believed in finishing the PU portion first and then giving exclusive attention to the competitive part. In fact, being thorough with PU concepts helps one with the NEET syllabus profoundly. The constant support of teachers and uninterrupted access we had to them was very empowering."

The Founder of Deeksha, Dr. Sridhar, expressed his delight at the results, saying, "We are extremely proud of our students and their achievements. The fact that we have secured top state scores in the PU2 board exams is a testament to the quality of education that we provide, and the hard work put in by our faculty and students."

He added, "We believe in providing a holistic education that emphasizes not only academic excellence but also character-building and leadership skills. Our students have shown that they are not only excellent students but also well-rounded individuals who can succeed in all aspects of life."

Deeksha's education approach is unique in that it seamlessly combines the preparation of PU with competitive exams like JEE, NEET, and CET, allowing students to excel in both areas. The complementary relationship between PU and competitive exams, along with the individualized support and guidance provided by Deeksha's faculty, are essential components contributing to the remarkable success of Deeksha's students.