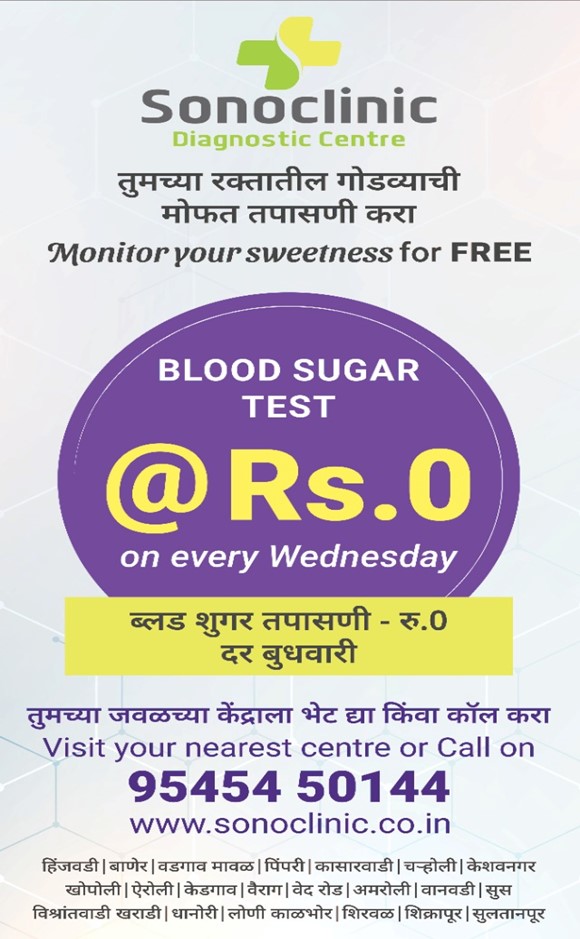 Michael J Fox once said, " Medical science has proven time and again that when the resources are provided, great progress in the treatment, cure, and prevention of disease can occur. "
And with this in mind, this diagnostic care centre Sonoclinic here takes us to a new level of medical treatment advancements which are long overdue and needed in the heat of the disease laid situation we come across during our ever-challenging life schedules.
Many people lose their lives, with the lack of proper equipment, technologies or other reasons. But now, things are being done to prevent this, one that includes developing far more advanced technologies where high skill driven doctors, technologists and staff nurses work in unison to provide marvelling standards of diagnostic care.
Now, another basic step towards life is based on the quote "Prevention is better than cure", which is what sono clinic's vision is based on. Learning about one's illness as it starts its symptoms, which is usually too late for the patient at times to recover from, is so painful and unjust. Which is why, what if one could get properly diagnosed before they even show any symptoms of harmful illnesses or diseases? Wouldn't it be so beneficial? Relieving? In such a way, the earlier the treatment starts, the more are the chances of recovery and in some cases completely beating the hurdle.
It can only be achieved by proper awareness among the people, good medical staff, equipment's, facility and the will to improve for the betterment of the society. With a vision to use high technology to provide the latest and in-depth knowledge of the healthcare field, while creating a healthy community through a change from being the reactive to preventive healthcare and detection in all age groups, sexes and genders; Sono clinic strives to excel at being the best organisation, continuously seeking to improve and upgrade the technology and techniques by conducting honest and ethical practices with integrity, responsibility and accuracy of competency all at an affordable price.
With their elite mind and skill sets that are so focussed into helping people, they have their roots and presence all over the cities
with technology solutions like MRI, CT scan, mammography, sonography, 2D ECHO, PFT, plain films or digital x-ray procedures, including diagnostic setups, fully equipped pathology, quick reporting and home sample collection services.
They have a closely knit logistical system which maintains sample integrity with temperature-controlled logistics, processes that are built to achieve a precise diagnosis that are administered for all its steps starting from a test request to achieving the proper dispatch of results to the envoy and facilitating a cost-effective sourcing and branding of the equipment.
Sonoclinic has a unique outlook and networking that connects them with their patients and since this a newly formed start-up, they hire only professional technicians with experience and also incentivise them with equal education opportunities in order for them to stay updated with the technology.
In recent years, Sono clinic has expanded to major suburbs and localities all over the city Maharashtra and some of Gujarat and will continue speeding as they gain partnerships to improve and increase their path towards a genuine healthcare together.
If you want your facility to have services that may enhance your overall medical output, Sonoclinic diagnostic centre is the one for you. Their requirements include minimum of 150 sq. feet space, working 3-7 personnel, an investment of 10-50 lakhs and hundred percent dedication towards their work. For a more precise working one may look at their revenue model, which includes an investment of 45-50 lakhs with the rent plus 30K or 21% more revenue.
This is indeed a path lighting initiative towards improving patient care with 24/7 telemedicine and patient, a team of highly worked, experienced and team who can reduce the lag time between acquisition and implementation by their alert faculty and a broad range of high-end diagnostic services that they offer.
And as Ike Skelton once said, "Modern medical advances have helped millions of people live longer, healthier lives. We owe these improvements to decades of investment in medical research", we as a species who are conscious of our own and others besides, it is time for us to see that, implement and take care of our loved ones by using such technologies, being grateful and saving ourselves for the better and longer run.